You are here
Back to top
Into the Inferno: A Photographer's Journey Through California's Megafires and Fallout (Hardcover)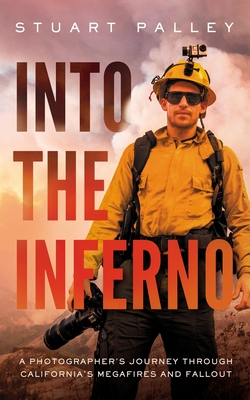 Description
---
In the tradition of Young Men and Fire and Fire on the Mountain, Stuart Palley's memoir Into the Inferno documents eight years of devastating wildfire in California, showing how fire can transform a landscape as well as a soul ...
For nearly a decade, Palley has been on the frontline of fire. He has witnessed homeowners on the worst day of their lives. He's seen puddles of aluminum where cars were once parked. He's watched as 150-foot walls of flame cascaded down mountainsides and crashed into the Pacific Ocean. And he's captured, time and again, the tireless commitment of firefighters as they work to save lives and homes, in terrain where fire always seems to have the upper hand.
In this memoir, Palley recalls how he went from learning to be safe on the fireline to a fire-savvy documentarian of wildfire and climate change. He covers some of California's largest, most destructive, and deadliest fires between 2012 and 2020, lugging his gear from the Wine Country Fire Siege to the Thomas Fire and ultimately to the Woolsey Fire in Malibu. And he shows how, in a relatively short span of time, fire season in California has grown into a perpetual crisis, requiring billions of dollars and thousands of firefighters each year.
Ultimately, the experiences, the voices, the science shared in the memoir form an urgent call for climate action. Into the Inferno stands alongside Palley's photography to show just what kind of environmental tragedy we can expect if we do nothing.