You are here
Back to top
1 Dead in Attic: After Katrina (Paperback)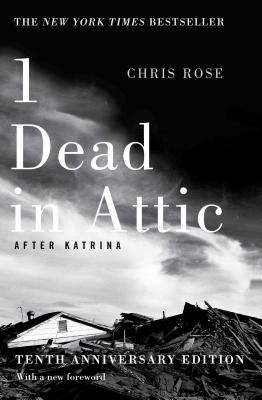 $18.99

Usually Ships in 1-5 Days
Description
---
With a new foreword by the author—Chris Rose's New York Times bestselling collection: "A gripping book about life's challenges in post-Katrina New Orleans…packed with heart, honesty, and wit" (New Republic).

Celebrated as a local classic and heaped with national praise, 1 Dead in Attic is a brilliant collection of columns by an award-winning Times-Picayune journalist chronicling the horrific damage and aftermath wrought by Hurricane Katrina in 2006. "Frank and compelling...vivid and invaluable" (Booklist), it is a roller coaster ride through a devastated American wasteland as it groans for rebirth. Full of the emotion, tragedy and even humor—which has made Chris Rose a favorite son and the voice of a lost city—these are the stories of the dead and the living, of survivors and believers, of destruction and recovery, and of hope and despair.

With photographs by British photojournalist Charlie Varley, 1 Dead in Attic captures New Orleans caught between an old era and a new, New Orleans in its most desperate time, as it struggled out of floodwaters and willed itself back to life.
About the Author
---
Chris Rose is a columnist for The Times-Picayune in New Orleans, an essayist for The NewsHour with Jim Lehrer, and a frequent commentator for National Public Radio's Morning Edition. In 2006, he was a finalist for the Pulitzer Prize for Distinguished Commentary in recognition of his Katrina columns and was awarded a share in the Times-Picayune staff's Pulitzer for Public Service. Rose lives in New Orleans with his three children.
Praise For…
---
"The Crescent City's bard"
-- Harry Shearer, The Huffington Post

"These are impressionistic cries of pain and mordant humor...they so aptly mirrored the sense of surreal dislocation experienced by New Orleanians that they turned Rose into a voice of the tortured city."
-- Ken Ringle, The Washington Post Book World

"The most engaging of the Katrina books...packed with more heart, honesty, and wit...Rose was more interested in telling the searing stories of his shattered city than assigning the blame for its demise..."
-- Michael Grunwald, The New Republic