You are here
Back to top
101 Amazing Sights of the Night Sky: A Guided Tour for Beginners (Paperback)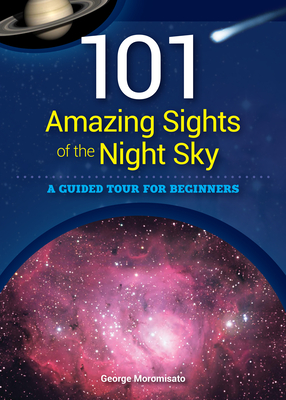 $14.95

Usually Ships in 1-5 Days
Description
---
See the best that the night sky has to offer.

Is there anything more amazing than the night sky? You've seen the stars and the constellations--but there's so much more to discover This guide by George Moromisato introduces you to 101 sights, from old favorites like Saturn's famous rings to awe-inspiring wonders like the Andromeda Galaxy. Learn what to look for and when and where to find it

The sights are ranked by beauty, accessibility, and importance.
The guide features at least one full-color photograph for each entry, including many from NASA.
As an added bonus, the author's astrophotography tips provide information about taking pictures of the night sky.
This astronomy book is perfect for beginners, as many objects can be seen with the unaided eye or binoculars, while others simply require a small telescope.
About the Author
---
George Moromisato is an American software engineer, game designer, and astrophotographer. He's been programming for 70 percent of his life and has worked at Microsoft, IBM, and Lotus Development Corporation. He is the designer of several computer games, including Anacreon (one of the first 4X games), Chron X (the first online collectible card game), and most recently, Transcendence. But his first love is astronomy, and he avidly photographs the night sky whenever clouds allow. He is the co-founder of PhotonSky.com, an upcoming site for sharing astrophotos and for promoting amateur astronomy. You can reach him via email at george.moromisato@photonsky.com.