You are here
Back to top
Beautiful No-Mow Yards: 50 Amazing Lawn Alternatives (Paperback)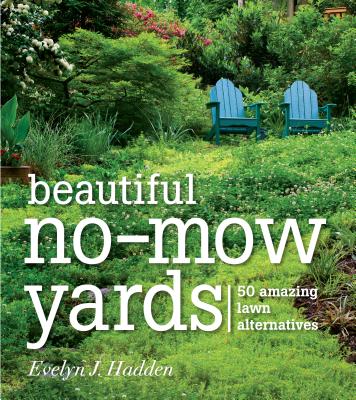 Description
---
 "A compelling rationale for ignoring the siren song of the 'perfect' lawn, and step-by-step instructions for creating easy-care, planet-friendly patches of paradise." —Fine Gardening
 
In Beautiful No-Mow Yards, Evelyn Hadden offers the ultimate guide to rethinking your lawn-dominated yard. With inspiring color photos and cutting-edge advice about how to work with nature, Hadden offers a diverse set of alternatives to demanding green turf. Beautiful No-Mow Yards includes detailed profiles for 100 of the best ground-layer plants, design tips to reduce maintenance, and guidelines for making smaller and smarter lawns. Whether you are motivated by saving time and money, reducing your ecological footprint, or a desire to reconnect with nature daily in your own yard, it's time to turn your lawn into a livable garden!
About the Author
---
National speaker and award-winning author Evelyn Hadden encourages property owners to convert unused, unloved lawns to more rewarding landscapes. She is a founder of lesslawn.com, a partner at the lauded and provocative blog Garden Rant, and a founding member of the National Lawn Reform Coalition.
Praise For…
---
"Novice and expert gardeners will find this well-written and engaging work, enhanced with color photos and other illustrations, useful for all sizes of projects." —Library Journal
 
"With refreshing zeal, the author urges us to rethink our yards, helping us to see that a lawnless or a less-lawn landscape can fascinate us with its beauty, complexity, and variability." —Publishers Weekly
 
"Hadden demonstrates how creatively rewarding it can be to forgo the fescue." —Booklist
 
"Deeply inspirational to anyone looking to make their yards more interesting, more beautiful, and more wildlife-friendly." —Garden Rant
 
"It has it all: A compelling rationale for ignoring the siren song of the 'perfect' lawn, inspirational stories from gardeners and designers enthusiastically embracing this timely trend, and step-by-step instructions for creating easy-care, planet-friendly patches of paradise." —Fine Gardening
 
"Hands down one of the best garden writers I've had the pleasure of reading. I have a large library of gardening books, most with excellent content, but few rival the elegant and graceful prose of Beautiful No-Mow Yards." —Blue Planet Garden Blog
 
"Deeply inspirational to anyone looking to make their yards more interesting, more beautiful, and more wildlife-friendly." —greatgardenspeakers.com
 
"Whether you are a designer, home gardener, wild-life enthusiast, or environmentalist, Beautiful No-Mow Yards is a must-have addition for your gardening library." —Lawn Reform Coalition