You are here
Back to top
Confessions of a Bad Beekeeper: What Not to Do When Keeping Bees (with Apologies to My Own) (Paperback)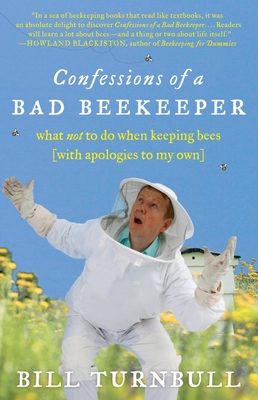 $16.95

Usually Ships in 1-5 Days
Description
---
Bill Turnbull had no intention of becoming a beekeeper. But when he saw an ad for beekeeping classes–after a swarm of bees landed in his suburban backyard–it seemed to be a sign. Despite being stung on the head–twice–at his first hands-on beekeeping class, Turnbull found himself falling in love with the fascinating, infuriating honeybee.
As a new beekeeper, Turnbull misplaced equipment for months, got stung more times–and in more places–than he cares to remember, and once even lost some bees up a chimney. But he kept at it, with a ready sense of humor and Zen-like acceptance of every mishap. And somehow, along the way, he learned a great deal about himself and the world around him.
Confessions of a Bad Beekeeper chronicles Turnbull's misadventures (and brief moments of triumph) in the curious world of backyard beekeeping–and also highlights both the threat to our bee population and what we can do to help these vital little creatures do their wonderful work.
About the Author
---
BILL TURNBULL is the award-winning longtime co-host of BBC Breakfast, Britain's most-watched morning TV show. A career journalist, he has reported from more than 30 countries, and for four years was the BBC News foreign correspondent in Washington, DC. He is President of the Institute of Northern Ireland Beekeepers and a public ambassador for the British Beekeepers' Association.
Praise For…
---
"Turnbull, the longtime cohost of England's answer to The Today Show, takes up beekeeping on a whim and brings us along on his apiarian adventures. His genial and comedic tone will deliver readers through technical jargon and beekeeping history. The book's real appeal will be to those who already think backyard bees are a honey—excuse the pun—of an idea and who will comb the book for the myriad details of use to other amateur beekeepers."
—Library Journal  

"For a news reporter, Bill Turnbull is a pretty funny guy. It's a good thing, too, because his new book, Confessions of a Bad Beekeeper, demonstrates just how important a ready sense of humor — and the ability to laugh at oneself — is to the amateur apiarist. Turnbull comes across as affable and amused as he relates his initiation into the world of apiculture, and though much of what he shares are his own personal foibles and misadventures, there's a lot to be learned here. . . . Like front yard gardening, backyard beekeeping is on the rise, and Confessions of a Bad Beekeeper is a honey-sweet introduction to what might otherwise be an intimidating pursuit."
—Mother Nature Network  

"Animated and entertaining! Bill Turnbull gives readers an informative glimpse into the enchanting world of beekeeping that is sure to increase their appreciation for these endearing creatures."
—C. Marina Marchese, author of Honeybee: Lessons from an Accidental Beekeeper  

"This delightful, funny book will strike a chord with all beekeepers—beginners and seasoned ones alike. We have all done stupid things with bees, and I am glad to report that Bill Turnbull survived and learned from his mistakes. A truly wonderful read."
—Diana Sammataro, PhD, coauthor of The Beekeeper's Handbook  
"In a sea of beekeeping books that read like textbooks, it was an absolute delight to discover Confessions of a Bad Beekeeper. Bill Turnbull presents us with a delightful and amusing book on the basics of beekeeping. Through Turnbull's self-effacing humor and personal anecdotes, readers will learn a lot about bees—and a thing or two about life itself."—Howland Blackiston, author of Beekeeping for Dummies  

"Every beekeeper begins as a bad beekeeper. Fortunately, Bill Turnbull remembers his hilarious beekeeping mistakes and adventures in great detail, and he has bravely transformed them into this honest, entertaining book. It is a must-read even for experienced beekeepers who have already been there and done that, especially as they may have failed to see the humor that Turnbull so skillfully captures."
—Norman Gary, PhD, Professor and Apiculturist Emeritus, University of California, Davis, and author of Honey Bee Hobbyist