You are here
Back to top
Between Light and Storm: How We Live with Other Species (Hardcover)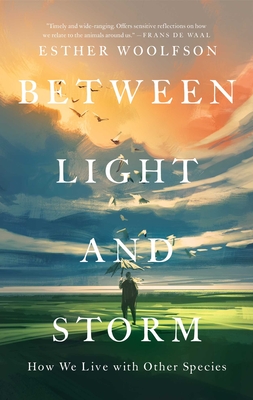 $28.95

Usually Ships in 1-5 Days
Description
---
A landmark examination of the fraught relationship between humans and animals, taking the reader from Genesis to climate change.

Beginning with the very origins of life on Earth, Woolfson considers prehistoric human-animal interaction and traces the millennia-long evolution of conceptions of the soul and conscience in relation to the animal kingdom, and the consequences of our belief in human superiority. She explores our representation of animals in art, our consumption of them for food, our experiments on them for science, and our willingness to slaughter them for sport and fashion, as well as examining concepts of love and ownership.

Drawing on philosophy and theology, art and history, as well as her own experience of living with animals and coming to know, love, and respect them as individuals, Woolfson examines some of the most complex ethical issues surrounding our treatment of animals and argues passionately and persuasively for a more humble, more humane, relationship with the creatures who share our world.
About the Author
---
Esther Woolfson is the author of Corvus: A Life With Birds and Field Notes From a Hidden City: An Urban Nature Diary, which was short­ listed for the Wainwright Prize and the Royal Society of Literature Ondaatje Prize. She has been an Artist in Residence at the Aberdeen Centre for Environmental Sustainability and is an Honorary Fellow in the Department of Anthropology at Aberdeen University.
Praise For…
---
"The book is as impressive a memoir as it is a work of clear-headed and highly informed journalism. Woolfson writes without a sense of privilege. Her voice is humble, passionate, and sensitive."
— Forbes

"Woolfson writes with arresting grace and vibrant immediacy. The book is a necessary and beautiful plea for us humans to do better by our fellow creatures."
— Science

"Between Light and Storm is a compelling read about a patriarchal, capitalist system that has reduced animals to commodities. If animals are soulless automatons, Woolfson reminds us, then humans can use them for any and all purposes."


— Earth Island Journal

"Esther Woolfson has crafted a work that is at once theoretical, yet applicable and relevant; personal, yet clinical; and dark, yet extremely hopeful."
— The Jerusalem Post

"Insightful, erudite and eminently readable, Between Light and Storm is a wide-ranging meditation on the history and ethics of human-animal relationships. Tthought-provoking, perceptive and crammed with interesting ideas presented in an accessible way."

— Bookbrowse

"Woolfson examines humanity's relationship with animals in this bracing investigation....With gorgeous writing and well-considered insight, this is a must for nature-minded readers. "
— Publishers Weekly (starred review)

"This work has the capacity to forever change the thinking about humans' relationship to animals and to lead to constructive ways of dealing with issues for the betterment of both. It belongs on the shelves of all academic and large public libraries."
— Library Journal (starred review)

"Asserting that Earth's survival is in jeopardy, Between Light and Storm is passionate and powerful in arguing that people's attitudes and behaviors toward the Earth need to change in significant ways."
— Forward Reviews

"Learned, compassionate, and disconcerting, this is a major contribution to the literature on animal welfare."
— Kirkus Reviews, (starred review)

"We live in a time in which our disrespect for nature is coming back to bite us. Timely and wide-ranging, Esther Woolfson's book offers sensitive reflections on how we relate to the animals around us as well as the animal within."
— Frans de Waal, New York Times bestselling author of Are We Smart Enough to Know How Smart Animals Are?