You are here
Back to top
Bad Smoke, Good Smoke: A Texas Rancher's View of Wildfire (Voice in the American West) (Hardcover)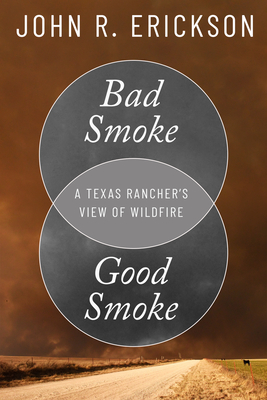 $24.95

Usually Ships in 1-5 Days
Description
---
From his home on the Texas Panhandle, John R. Erickson, rancher and author of the bestselling
Hank the Cowdog
series, saw firsthand the raw power of two megafires that swept across the high plains in 2006 and 2017. "These were landmark events that are etched onto the memory of an entire generation and will be passed down to the next. They made the old-time methods of fighting fire with shovels, wet gunny sacks, and ranch spray rigs a pathetic joke."
Yet Bad Smoke, Good Smoke, while relating a tale of gut-wrenching destruction, also provides a more nuanced view of what is often a natural event, giving the two-sided story of our relationship with fire. Not just a first-hand account, Bad Smoke, Good Smoke also synthesizes and explains the latest research in range management, climate, and fire. Having experienced the bad smoke, Erickson tries to understand a rancher's relationship to good smoke and to reconcile the symbiotic relationship that a rancher has with fire.
Evocatively chronicled, Erickson tells what it is like trying to stop the unstoppable: Bad Smoke, Good Smoke gives voice to the particular pains that ranchers must face in our era of climate change and ever more powerful natural disasters.